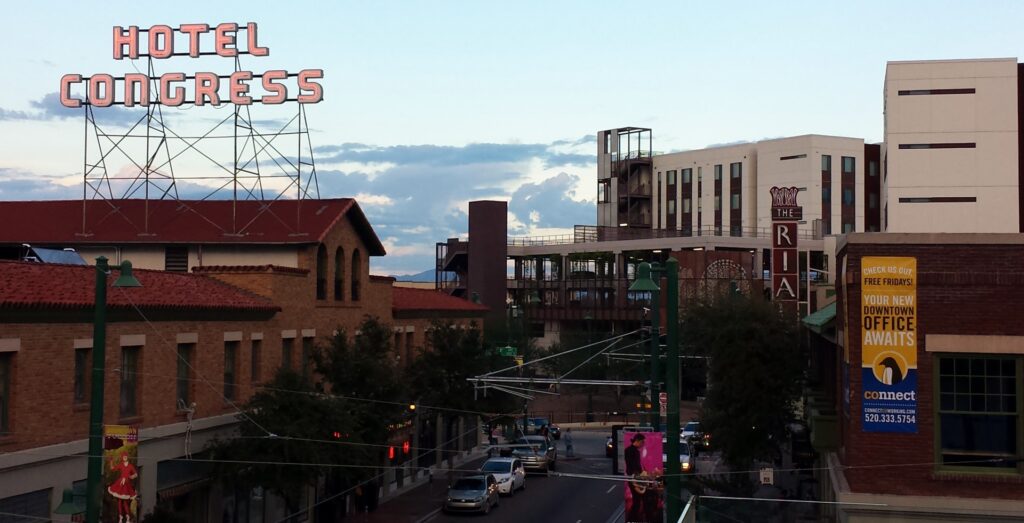 Downtown Tucson is currently experiencing an exciting renaissance. It all started with the renovation of the Fox Theater in 2005 and continued with the opening of the Tucson Modern Streetcar in 2014, which prompted many businesses, restaurants, and people to move downtown.
Now is a great time to live a more urban life in the heart of Tucson. With so many great new restaurants, bars, breweries, shops, museums, and events; Downtown Tucson is the place to live, work, and play in Tucson. You could be part of the downtown Tucson revolution.
Radius Searches for Downtown Tucson: (links are updated continually)
Or search homes for sale 

by price, within 2 mile radius of Downtown Tucson:

There's so many places to visit downtown including:
Art Galleries:
Groceries:
Restaurants:
Hotels:
Shopping:
Other places of interest:
Workplaces:
What are others saying about Tucson?
Many

Historic Districts

are in the Downtown Tucson area including:
El Presidio
Iron Horse
Pie Allen
Rincon Heights
Feldman's
Barrio Anita
Barrio Santa Rosa
Barrio El Membrillo
Barrio El Hoyo
Barrio Libre
Dunbar Spring / John Spring
Menlo Park
Are you interested in living in Downtown Tucson? Or would you like to sell your Tucson property? Contact Nick at 520-975-8956 or Nick@RealTucson.com
Sign up to receive daily email updates on homes as they go on the market.
Or download the new Long Realty app now:  iPad iPhone Android
Current and Accurate – Information updated every 15 minutes from the MLS
Find nearby properties
Draw your own search area
Track favorite listings
Large, high resolution property photos
HomeScan – Scan the neighborhood for homes using a live camera view