Last Updated on April 23, 2021 by Kim Labriola
Chances are, you haven't heard of Annie Graham Rockfellow. Somehow, Arizona's first female architect got pushed aside in local history for several decades. So, who is she?
Annie Rockfellow was the first woman to study architecture at Massachusetts Institute of Technology, one year after they allowed women to enroll. After working back east for several years, she established roots in Tucson in 1916, getting hired as lead designer in Henry Jaastad's architecture firm. She brought her love of Spanish Colonial Revival architecture to Tucson which left a mark on the building history here. Other architects who are more well-known for Spanish Colonial Revival style in Tucson include Roy Place (who moved to Tucson in 1917), and Josias Joesler (who came to Tucson in 1927).
(Many consider Mary Elizabeth Jane Colter the first female Arizona architect. Colter worked for the Fred Harvey Company from 1905 to 1948, working on several projects in the Grand Canyon and in towns along the Santa Fe Railway. However, Colter resided in Kansas City, so technically was not a registered architect in Arizona.)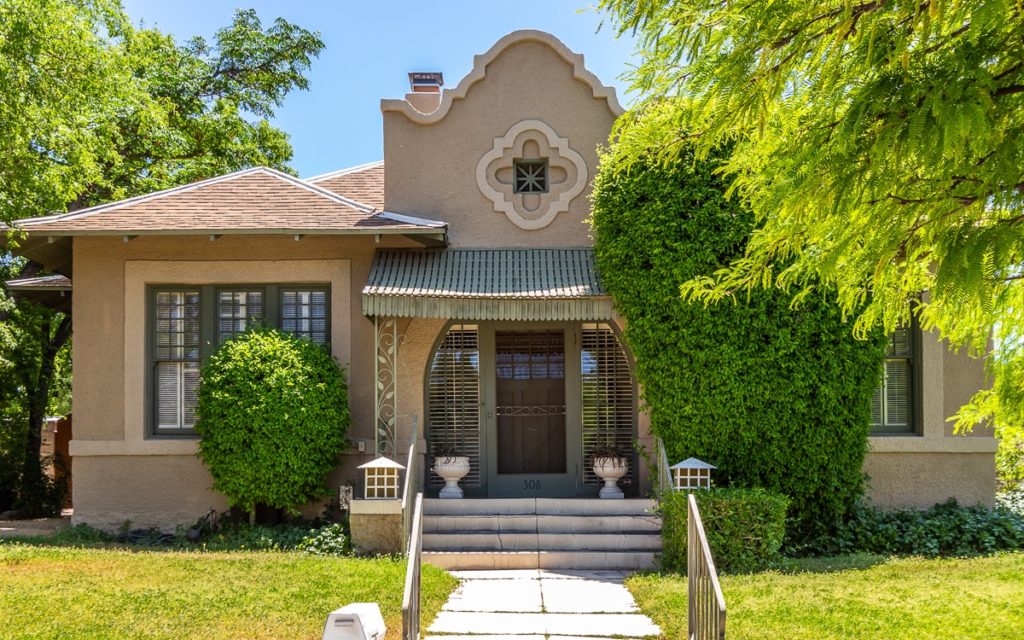 ---
Interested in buying or selling a unique home in the Tucson area? We can help! Contact us at Hello@RealTucson.com or 520-975-8956
---
Annie Rockfellow: Forgotten then Found
Annie Rockfellow was a well-known Tucsonan during her time here. She was featured in newspaper columns, she was mentioned in the society pages, and she even broadcasted 3 radio shows on local station KVOA in the 1930s. But somehow her legacy and story were all but lost between her death in 1954 until 1994 when she was 'found' by Kimberly Kunasek, a University of Arizona student, who wrote an extensive thesis about Rockfellow. In the decades since, there's been a few more articles written about Annie Rockfellow and more research attributing other work to her. Her story is a fascinating one.
A few of the Tucson buildings attributed to Annie Rockfellow:
YMCA in Miami, Arizona, collaboration with Henry Jaastad (1917)
Safford School in Tucson (1918)
El Conquistador Hotel in Tucson (1928) – demolished in 1968
YWCA (now known as the Historic Y) in Tucson (1929)
Desert Sanatorium (now part of Tucson Medical Center) (1926)
R.P. Boss House in Tucson (1932)
About Annie Rockfellow
Growing up
Annie Rockfellow was born to Julia and Samuel Rockfellow in 1866 in the small town of Mount Morris, New York. Mount Morris is located along the Genesee River between Rochester and Buffalo. She had one sibling, John, who was 9 years older. Despite the large age difference, John and Annie seemed to have a close relationship throughout their lives.
Her father owned a mercantile shop in Mount Morris. When Annie was 5, they moved to Rochester, where Samuel opened a plant nursery business, taking doctors' advice to get outside more. The family also traveled up and down the east coast for Julia's health, over the years. This gave Annie exposure to different architecture styles of different towns along the way.
When Annie was 10 years old, her father took her to the Centennial Exposition in Philadelphia in 1876, America's first official World's Fair, where she remembered being fascinated by the giant Corliss engine.
Rockfellow was raised in an area of New York that was home to pioneering feminists like Susan B. Anthony and Louise Bethune (considered to be the first female American professional architect, starting her career in 1881). Her family seemed to give her a lot of freedom, which was not as common to young girls at the time.
She attended boarding school for a few years, and it was here that she came across a catalog for MIT. Around the same time, an architect named William Walker was visiting her family home and looked at her house sketches. After seeing these, he encouraged her to study architecture at MIT, promising that he'd hire her once she graduated.
---
Interested in buying or selling a historic property in the Tucson area? Contact us today: Hello@RealTucson.com or 520-975-8956
---
Architecture Training at MIT
MIT had just opened their architecture program to women the year before she enrolled in 1885. Rockfellow, referred to as 'Rocksy' by her classmates, became the first woman to study architecture at the school. She graduated in 1887, only the second woman to graduate from the school. Upon graduation, Walker hired her as promised, she worked for him for 6 years.
The Southwest Calls
Meanwhile, her brother John moved to Arizona in the late 1870s, eventually starting a cattle ranch called N.Y. Ranch in Cochise County. The siblings kept in contact by letters, where John introduced her to the desert southwest. He convinced her to move to Tucson in 1895, helping her get a teaching position at the University of Arizona, where he was a mathematics professor. She taught English, history, geography, and also tutored students with drawing and architecture.
After 2 years teaching, she knew that it wasn't what she wanted to do long term. Rockfellow resigned from the position and spent a few months traveling Europe and Great Britain by bicycle, taking special interest in experiencing the architecture. She then returned to the east, working for other architects in Detroit and Buffalo, then starting her own business in Rochester.
In 1909, Annie moved to Tombstone to care for her elderly father who had retired there to be close to his son John. Annie remained in Tombstone for 2 years, until her father's death in 1911. During that time, she fell in love with the climate of the Sonoran Desert. As she described, "The cactus gets under the skin".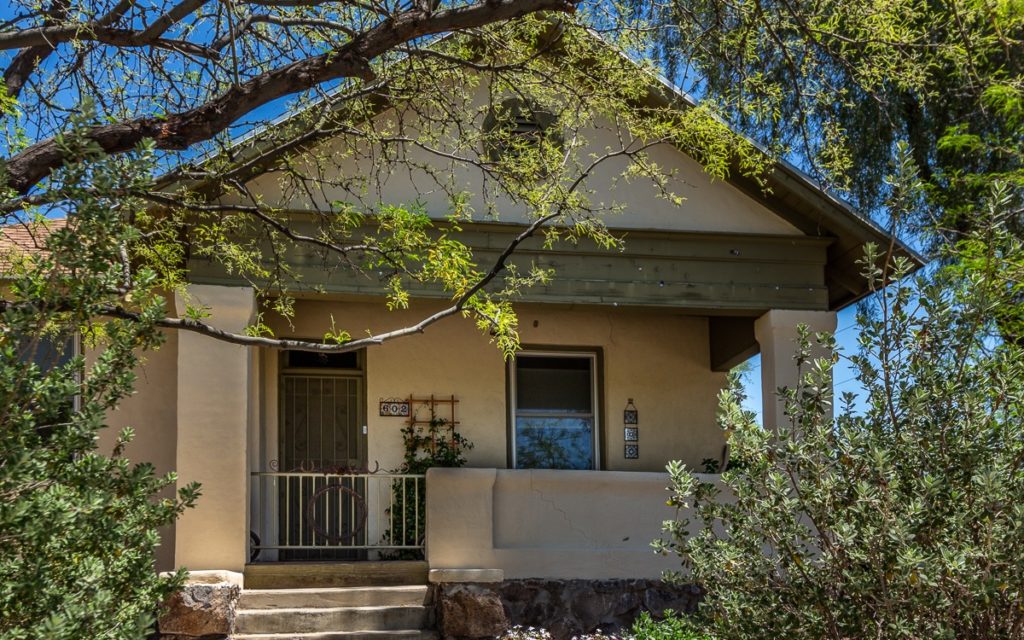 Meeting Henry O. Jaastad
During a visit to Tucson, Rockfellow met Henry Jaastad, a local architect. Rockfellow had designed a home for her brother, who had hired Jaastad to supervise the construction. In 1915 Jaastad asked her to collaborate on a competition for the commission of a YMCA building in the mining town of Miami, Arizona. They won the competition and Jaastad offered her a job. She declined the offer, instead finishing up some other out of state projects and then traveling to San Diego to attend the 1915 Panama-California Exposition.
The Panama-California Exposition featured more than 20 buildings of Spanish Colonial Revival, Mission Revival, and Pueblo Revival styles. Rockfellow was took inspiration from the architecture at the Expo and she said it had a profound effect on her philosophy of design. She viewed these styles as perfect for Arizona's climate and terrain.
She returned to Tucson in 1916 and stopped by Henry Jaastad's office. Once again, he offered her a job. This time she accepted. She asked, "When, Monday?" "Sooner if you can." "All right, I'll be back after lunch." And so, at the age of 50 Rockfellow started the next segment of her career, which spanned the next 22 years.
---
A few of the Tucson buildings attributed to Annie Rockfellow:
YMCA in Miami, Arizona
YMCA in Miami, Arizona, collaboration with Jaastad (1917): This project helped Rockfellow get the lead designer job with Henry Jaastad.
Safford School, Tucson
Safford School (1918): This school replaced the Plaza School (built 1888) that burned down in 1917. It's a two-story Spanish Colonial Revival style building with an intricately carved portico flanked by domed towers on either side. This building may have been inspired by the California State Building at the Panama-California Expo in San Diego.
---
El Conquistador Hotel, Tucson
El Conquistador Hotel (1928) – demolished in 1968: The hotel was considered Rockfellow's finest work. And she felt it was her ultimate design. Unfortunately, the hotel was a victim of bad timing, with construction finished just prior to the Great Depression. It went bankrupt in 1935 and went through various owners who all tried to make it profitable. Sadly, it was demolished to make way for a new suburban mall in 1968. Several decades later, they mall was demolished and now has a series of big box stores and a movie theater. A few of the hotel's features have survived: The porte cochere is at the entrance of Sin Vacas neighborhood on Ina Road and the copper dome is at the Casa Blanca Shopping Center on Oracle and Rudasill.
YWCA, Tucson
YWCA (now called the Historic Y) on University Boulevard (1929): This was a special project for Rockfellow, as she was a member of the YWCA. Because of her membership, she understood the needs that the other members had for the building.
---
Desert Sanatorium, Tucson
Desert Sanatorium (now part of Tucson Medical Center) (1926): Two buildings still survive on the TMC campus. Perhaps Rockfellow was inspired by the pueblo revival style New Mexico Building at the Panama-California Expo she attended.
---
R.P. Boss House , Tucson
R.P. Boss House (1932) – this home became one of the southern Arizona sets for the film "Boys on the Side". It's located in the far northeast side of Tucson on several acres. The home is a Pueblo Revival style that Rockfellow referred to as 'Hopi' style.
---
Interested in buying or selling a unique home in the Tucson area? We can help! Contact us at Hello@RealTucson.com or 520-975-8956
---
Elevating Design
Jaastad was fortunate to hire Rockfellow. He had received his architecture training through a correspondence course. Prior to hiring Rockfellow, his work tended to be smaller, more utilitarian projects. She brought a sophistication to his office with the help of her Beaux-Arts training from MIT.
"His (Jaastad's) first decade or so was no great shakes. He designed dozens of rather shy Victorian and bungalow houses around Amory Park and the West University neighborhood. "This stuff could have been designed by any Scandinavian immigrant carpenter-turned-architect anywhere in America," Harris Sobin says. 'It's almost anti-regional….' But around 1915 something began to click.

It may have been the influence of a young collaborator in Jaastad's firm, or the inspiration of the Panama-California Exposition in San Diego. Whatever the stimulus Jaastad began to wax eclectic and romantic. And the grace of the Spanish-derived architecture that began flowing from this straight-arrow Norwegian is simply amazing.

Only four years later, however, with the design of Tucson's Safford School, Jaastad seemed to reach artistic maturity. The building is no perfect model of the Mission Revival style – oh its wings stretch out a little too long and thick, its fenestration suggests bureaucracy sooner than romance, and its twin end pieces want more elaborate decoration ~ but it is a very adept marriage of old-world frugality and gentle, feminine graciousness. And it's easily the most beautiful building in Tucson."

~ Lawrence W. Cheek, Tucson Citizen, 3/9/1981
So what clicked? Jaastad hiring Annie (the 50-year young collaborator) in 1916 was the missing piece to Lawrence Cheek's puzzle.
Rockfellow preferred commercial projects to residential ones. She felt that residential projects required too many long meetings and too many changes. Although she still did work on many residential projects.
Jaastad was active in civic life and in 1924 he was elected to the Tucson City Council. In 1933 he was elected as Tucson Mayor. His busy schedule meant that he was working in his office less, trusting Annie and other employees to handle things there.
---
Annie Rockfellow: An Advocate of Historic Preservation
Annie was a proponent of historic preservation way ahead of her time. She realized the Sonoran architecture in Tucson was something special. She addressed it in a local radio address on KVOA in the 1930s. Unfortunately, her advice was not taken, when 'urban renewal' wiped out a huge area of the barrios near downtown to build the Tucson Convention Center and I-10 highway in the 1960s.
"I am an admirer of what I term the Tucson-Mexican style of architecture for this part of the country — the early thick-walled adobe one story buildings showing the influence of Mexico and seeming to 'belong' in this topography and climate, AND very much in favor of preserving and using the best of those still standing."

~Annie Rockfellow in a 1933 KVOA radio address
---
Retirement
In 1938, at the age of 72, Annie retired then moved to Santa Barbara, a city surrounded by the Mission Revival style architecture she loved. She enjoyed many years of retirement before her death in 1954.
"Well, after fifty years of business and seventy-two of life I retired a year ago and am now living happily in the loveliest city in California, enjoying its appropriate Spanish architecture, its beautiful gardens, its mountains and sea-coast… 'A dream come true.'

~ Annie Rockfellow
---
Interested in buying or selling a home in Tucson? Contact us to go over your needs. 520-975-8956 or Hello@RealTucson.com
---
Related Articles