Last Updated on April 23, 2021 by Kim Labriola
Nick and I just returned from the 2019 Arizona Historic Preservation Conference held in Prescott this year. It was our first time attending the conference and we were impressed by the knowledge of the dozens of presenters. The conference featured 2 full days of seminars with speakers from all over the state, as well as keynote presentations from experts outside of Arizona. The topics ranged from building reuse to archaeology. Here's a little about what we took away from the conference.
Why Preserve Historic Buildings?
People like historic buildings and neighborhoods
Think about your favorite restaurants. You know, the ones where you take your out of town guests to, or the ones you make reservations for a special birthday or anniversary. Chances are, it's located in a historic building. Why is this? Because people like the character, unique quality, and nostalgia of old places. These special places cannot be replicated, once they're gone, they're gone.
---
Interested in buying or selling a home in Tucson? Contact us to go over your needs. 520-975-8956 or Hello@RealTucson.com
---
Jobs created
Rehabbing an existing building creates local jobs for skilled craftsmen and many others. Every $1 million spent brings 6.5 direct jobs and 5.5 indirect jobs to a community. Direct jobs are the contractors and various tradespeople; Indirect jobs include the bank teller, the CPA, grocery clerk, waitress at the local diner where those tradespeople spend their money. The number of jobs created is greater than any other industry for the amount spent. For every $1 spent on historic preservation tax credits, the government gets back $1.18 in tax revenue.
Downtown Revitalization
Historic preservation is a catalyst; after an area is revitalized, other nearby areas tend to follow. New small local businesses and creative businesses prefer to be based in older buildings, and these older buildings tend to be downtown. The ratio of new business start-ups compared to closed businesses is higher when businesses are in historic districts.
Property Values
Creating pride in an area increases the property values. Historic districts increase property values and these areas outperform the rest of the market. And during economic downturns, real estate located in historic districts hold more value than others. Foreclosure rates are 1/3 to 1/2 the rate of other neighborhoods. Note, income levels are not a variable in this number, modest historic neighborhoods also see similar results. The bottom line is that when real estate markets are going up, historic neighborhoods increase faster and when real estate markets are going down, historic districts decrease less.
---
Interested in buying or selling a home in Tucson? Contact us to go over your needs. 520-975-8956 or Hello@RealTucson.com
---
Tourism
So called Heritage Tourism is a thing. We shouldn't get rid of or change the character of the unique buildings that brought the traveler here in the first place. Most heritage visitors stay overnight and spend most of their money in that community, as compared to a standard tourist. Historic sites bring tourists to the area, and while they may spend very little at that historic site, most of their money is spent at the area businesses.
Environmentally friendly
It's always more sustainable to keep an existing building than to demolish and build something new. It takes 10 to 80 years for a new LEED certified building to make up for the negative climate change impacts of construction. Also, older homes tend to be smaller and use less utilities than the average newer home due to the increased square footage of newer homes. The greenest buildings are the existing ones.
Honors past and creates sense of place
Places mean something to the residents that live there because memories are created in these spaces. Whether a church, a grocery store, or a library, these places are tied to our past and become ingrained in our culture.
"In the city, time becomes visible."

-Lewis Mumford
Enables local business growth
As mentioned previously, more small local businesses are located in older buildings than an out-of-state businesses. According to Local First Arizona, for every $100 spent at local businesses, $43 stays in the local economy, versus $13 for non-local businesses.
Density
Historic districts are denser than newer subdivisions. This density brings in more tax dollars compared to a less dense new construction project.
---
Interested in buying or selling a home in Tucson? Contact us to go over your needs. 520-975-8956 or Hello@RealTucson.com
Do Historic Buildings Meet Our Modern Needs?
Boomers and Millennials may not agree on a lot, but surprisingly they do agree on what they are looking for in a neighborhood. The following items rated high on the list of requirements for both Boomers and Millennials.
Walkability
I see it repeatedly; my clients are often asking for areas that are more walkable. They prefer to walk or bike to at least a few of their weekly errands. Historic districts are usually located in areas with higher walk scores than newer neighborhoods which are typically located further out.
Close to shops and restaurants
Mixed use is more common with older neighborhoods, before the popularity of suburbs and strict zoning that keeps homes and businesses separated. Mixed use allows easier walkability.
"A report by the Nielsen group found that 62% of millennials wanted to live in an urban, mixed-use environment, alongside shops, restaurants, and offices"

The Past and Future City by Stephanie Meeks
Close to parks
City and neighborhood parks are a nice destination for walking the dog or taking the kids to play. Buildings in older areas tend to have less square footage in the homes, but they allowed for more green space nearby to be used by all.
"In Tucson, the Green Lab discovered not only the usual connections between historic fabric and urban performance, but further promising lines of study. Compared to newer neighborhoods there, older neighborhoods have more tree canopy and lower average surface temperatures, also enjoy more top-rated restaurants, and are most likely to have both Tucson's oldest and newest businesses" –

– The Past and Future City by Stephanie Meeks
Safety, neighborhood stability, and few vacant buildings
All 3 of these items are closely related. Vacant buildings can attract more crime. A robust local economy will ensure fewer vacancies within an area. Reusing these older buildings naturally results in fewer vacancies and less crime which creates more stability.
---
Are you looking to sell or buy a home in Tucson? Contact us today to go over your needs: Hello@RealTucson.com or 520-975-8956
---
Related Articles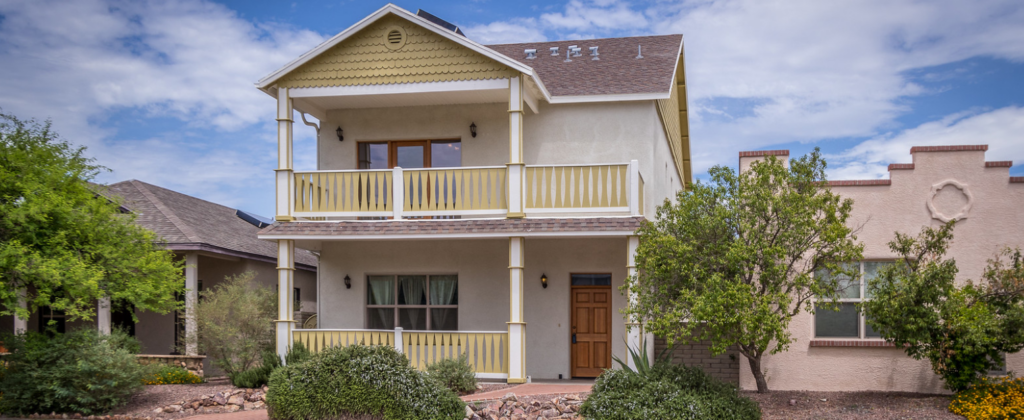 About Armory Park Del Sol Armory Park Del Sol is a neighborhood located just south…