Last Updated on April 24, 2021 by Kim Labriola
This is the next in a series highlighting architects of note, who have worked in the Tucson area. This edition features Ralph Haver, AIA.
Ralph Haver (AIA) was born in California and trained as an architect at USC Pasadena. After serving in the military in WWII, he relocated to Phoenix, AZ to work with his brother Robert and father Harry in the construction business.
During WWII materials shortages led to rationing laws. Homes were limited to 1000 SF. During the late forties, after the war, returning GIs began families. They used VA loans to purchase homes. A new modern aesthetic was evolving as architects provided good design to meet this demand.
By 1956 Haver had established his business by building custom homes and affordable tract homes across Arizona. He introduced the idea of the Perfect Arizona Type Home (PAT Home). In the mid 50s the typical household income was about $4400. The PAT homes were designed to offer the perfect styled home for the Arizona climate and lifestyle. Custom and semi-custom homes could easily cost twice as much as these standard designs in the $10,000 range. A range of elevations were offered including traditional, ranch, and modern.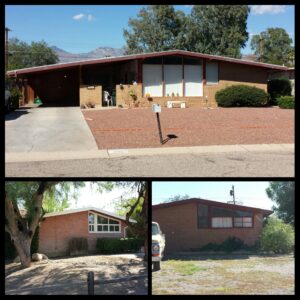 ---
Key standout features of the Haver homes include:
1:12 low pitched gables
Horizontal emphasis
Angled porch posts or "spider leg" post and beams
Beams extending beyond the eaves
Clerestory windows
"Lucky 7" shaped windows
4th window fake-out
Tucson has the largest known continuous tract of mid century Haver homes in a master planned community. They can be found in Grande Vista, Wilmot Vista, Craycroft Village, and Donna Vista. Terra del Sol at 22nd and Kolb also have known Haver homes.
---
If you believe you own a Haver home and are interested in its current market value.  Please contact us today: Hello@RealTucson.com or 520-975-8956
---
Are you interested in learning more about mid-century homes and neighborhoods in Tucson? Check out our guide on mid-century Tucson homes here!
---
Related Articles